POV Strappy Black Dress Pics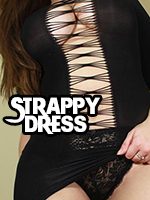 9 ridiculously hot pics of Princess Shimmy in a black strappy dress and panties. There's some extreme POV ass worship pics in this set too, so get ready! If you love ridiculously high platform boots, you will love this set too!
Photoset Features: POV Ass Worship, Tit Worship, Panty Fetish, PVC Platform Boots.