Boob Worship Instructions Part 3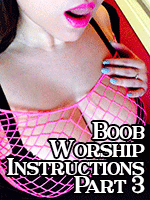 *Includes 7 hot worship photos!*
I know how weak you get when you stare at My glorious boobs. You become completely mesmerized and turn into a total tit zombie, unable to think, unable to speak or move! But don't worry My little puppets, you do not need to think for yourselves anymore. This PTV includes 7 ridiculously hot boob worship pics with very specific worship instructions for each one of them. You're going to worship Me the way I tell you to! So let's get to it!